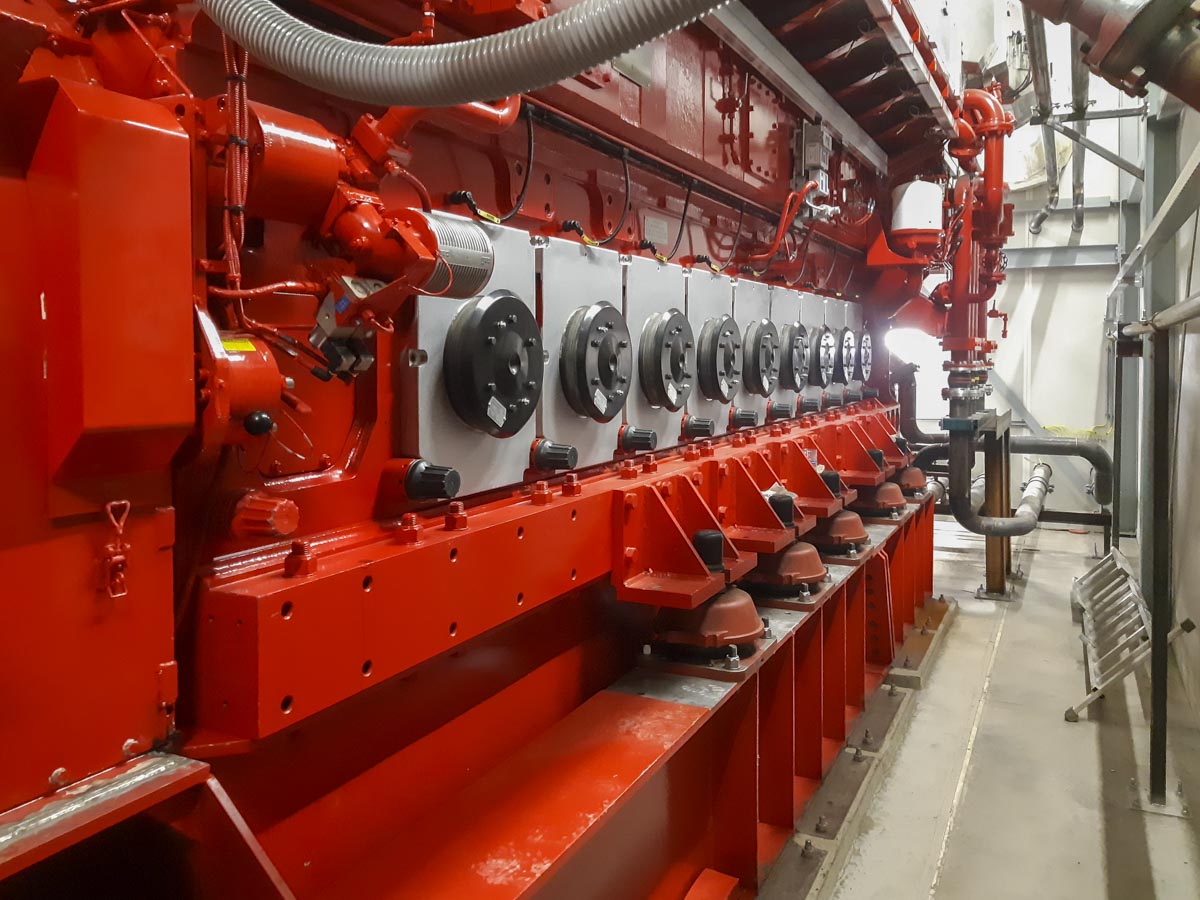 Een krachtige combinatie van vier machines levert rendabele energie op
Van de ene kans naar de volgende
Een mooie kans om het energienetwerk van bedrijven te optimaliseren mag nooit verloren gaan. Voor dit project werkten we samen met een coöperatie die gespecialiseerd is in windenergie, zonne-energie en warmtenetten, en samen kozen we hier voor een energietransitie met verregaande impact. 
Na een grondige analyse van de eindklant, een fabrikant van chemische stoffen, boden we een krachtige combinatie van vier machines aan om rendabele energie te leveren: een gasmotor van 5 MWe (inclusief de middenspanningsaansluiting), een warmwatercircuit van 3,5 MWth, een stoomgenerator van 2,5 ton en een ontzoutingsinstallatie om van het kanaalwater proceswater te maken.
Afwerken met verbeteringen van een hoger niveau
Omdat de site dicht bij het stadscentrum ligt, werkten we de installatie af met een systeem om de hoeveelheid NOx te verminderen en de rookgassen van de motor te verwerken. Op die manier ligt de uitstoot beduidend lager dan de huidige en toekomstige normen.
De geluidsniveaus waren ook een enorme uitdaging voor onze ontwerpingenieurs. Uiteindelijk slaagden ze erin alle geluiden tot onder 35 dB(A) te brengen zodat de gezinnen aan de andere kant van het kanaal niet meer gestoord werden. Ze deden dit door het gebouw en alle in- en uitlaten van extra isolatie te voorzien.
In collaboration with energy cooperation Beauvent, we brought a powerful yet sustainable energy system to a chemicals manufacturer close to the city center of Bruges. The company now enjoys a sustainable and cost-effective way of consuming energy.