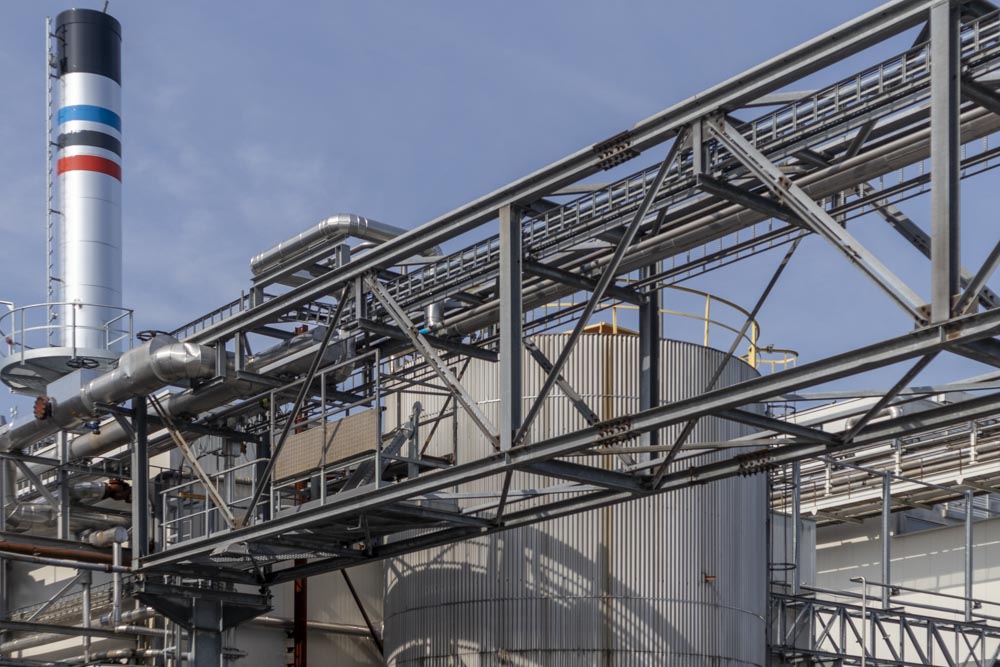 Combinatie van HRSG, gasturbine & back-up-boiler brengt opnieuw energiestabiliteit
Van laatste adem tot niet te stoppen energie
De vorige installatie dreigde het te begeven. Om de klant opnieuw volledige gemoedsrust te geven, kozen we een gasturbine uitgerust met een HRSG en een back-up-boiler.
Zodra de nieuwe back-up er stond, kon de klant opnieuw ononderbroken zijn culinaire oliën en vetten raffineren.
Specifiek voor deze installatie schommelt de vraag naar stoom niet alleen sterk maar is ze soms uiterst laag, in tegenstelling tot het vereiste fabrieksvermogen. Een speciale turbine met interne rookgasrecuperatie en naverbrander met diepe modulatie was de oplossing voor deze uitdaging: we slaagden erin te zakken tot 7 ton stoom per uur voor 4,5 MW elektriciteit.
Onroerend goed in al zijn aspecten
We verwijderden de oude WKK en installeerden een nieuwe op dezelfde plaats. Voor de afgasketel hergebruikten we de bestaande fundering in het bestaande gebouw. De back-up-boiler installeren was een afzonderlijke uitdaging. De muur van het oude gebouw was geklasseerd, dus verwijderden we het oude gebouw (behalve de muur), plaatsten een nieuw gebouw achter de muur en tilden de boiler over de beschermde muur in het nieuwe gebouw alvorens het dak te sluiten. Aangezien het dak mechanisch bevestigd is, kunnen we de boiler aan het einde van zijn levenscyclus altijd verwijderen.
Ondanks deze moeilijkheden konden we de installatietijd met drie weken inkorten. Als klap op de vuurpijl ontwierpen, installeerden en namen we een nieuwe middenspanningsaansluiting in gebruik.
This refinery of culinary oils and fats urgently needed a stable energy solution for its production process. In cooperation with our family members from Callens, we were able to bring back steam stability.
"We rekenden op CallensVyncke voor de renovatie van onze WKK. We kijken terug op een meer dan succesvolle samenwerking gezien de kwaliteitsvolle en snelle implementatie ter plaatse."